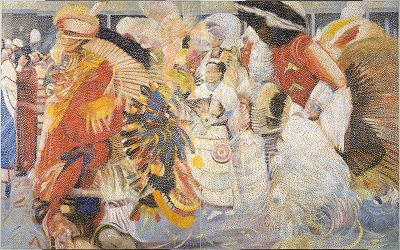 Earthtones art exhibition opening reception
May 3, 2018
The Chapel Gallery, North Battleford.
This exhibition features 34 works from the Saskatchewan Arts Board's Permanent Collection.
Photo: David Garneau. Yorkton Pow-Wow, 2008, acrylic on canvas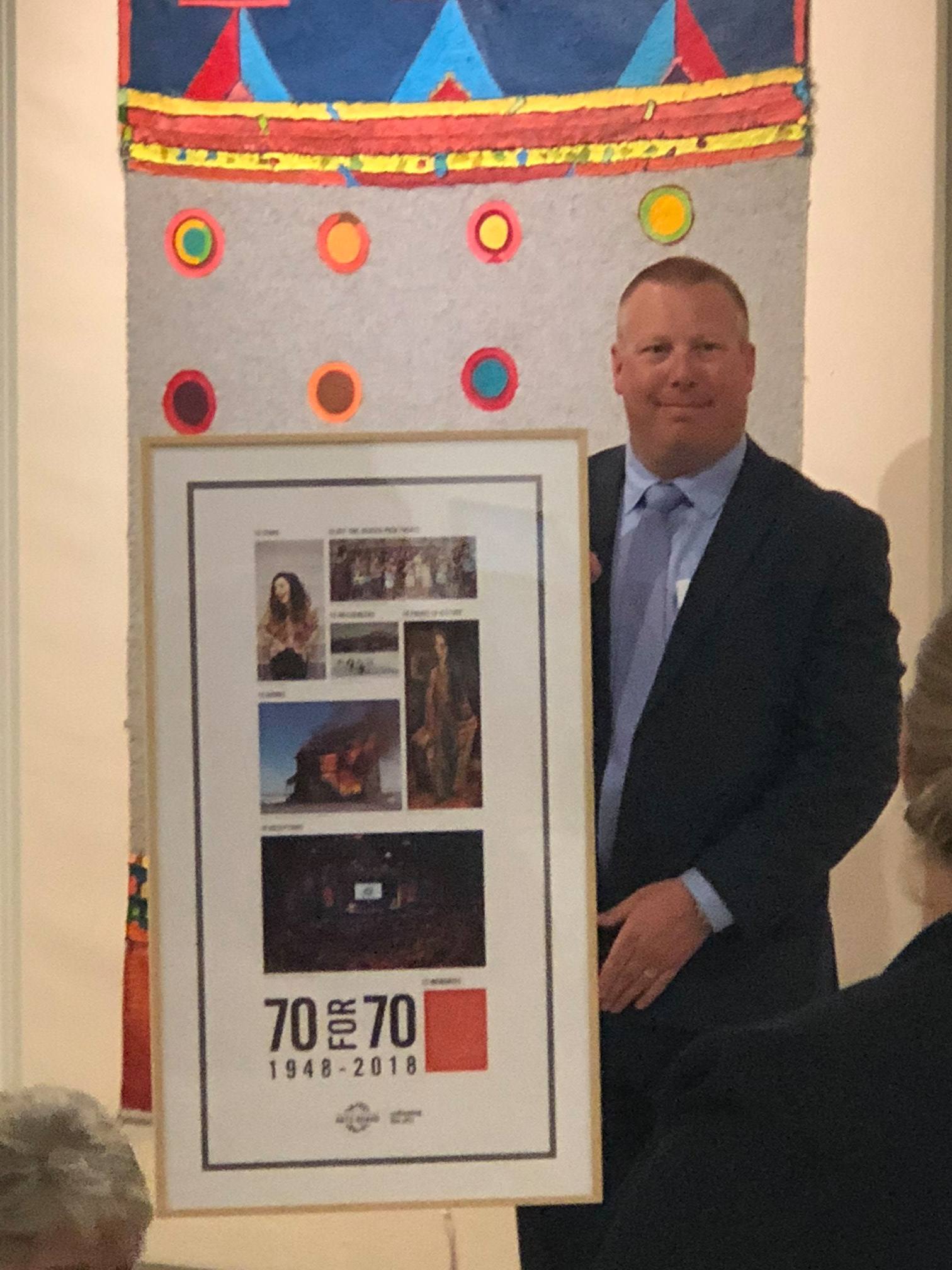 Closing reception of 70 Years: Art from the Saskatchewan Arts Board's Permanent Collection
May 16, 2018
Cumberland Gallery, Saskatchewan Legislative Building, Regina
This exhibition features 49 works by 51 artists, spanning seven decades of the collection's history.
Photo: Honourable Gene Makowsky, Minister of Parks, Culture and Sport and Minister Responsible for the Saskatchewan Arts Board, with the 70 for 70 commemorative poster.

Prairie Nurse opening reception
July 7, 2018
Station Arts Centre, Rosthern
Prairie Nurse by Marie Beath Badian is a comedy about two Filipino nurses who come to work at a small–town Saskatchewan hospital in the late 1960's. Cultural clashes, personality difference, homesickness, and the amorous but dim-witted goalie from the local hockey team complicate the women's lives. Based on the true story of her mother's immigration to Canada, Badian's play is part romantic comedy, part farce, and part cultural history.
YORKTON: LEGO City art exhibition opening reception
July 8, 2018
Godfrey Dean Art Gallery, Yorkton
YORKTON: LEGO CITY is a fun-filled celebration of bricks! Filled with the sheer number of LEGO structures assembled by local LEGO Meister Kelly Litzenberger, it's also a learning opportunity and a chance to appreciate Kelly's re-creations of historic and current Yorkton buildings. Commissioned by Godfrey Dean Art Gallery, YORKTON: LEGO CITY is one of the 200 exceptional projects funded through the Canada Council for the Arts' New Chapter initiative. The exhibition features three paintings of historic Yorkton buildings by Jeann Spilak, plus photographs and artifacts on loan from the Wynyard Bakery & Cafe.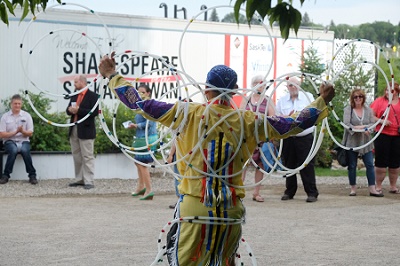 Building Bridges: Celebrating Cultures and Community
July 27, 2018
Shakespeare on the Saskatchewan, Saskatoon
Previously called Diversity Night, this event has grown in popularity with local cultural groups and newcomer organizations like the Saskatoon Open Door Society and Global Gathering Place. The evening begins with pre-show performances from a wide variety of cultural groups on the community stage, followed by a mainstage Shakespeare on the Saskatchewan production and concluding with a post-show barbecue.
Photo: Hoop dancer Lawrence Roy performs at the 2015 Building Bridges event.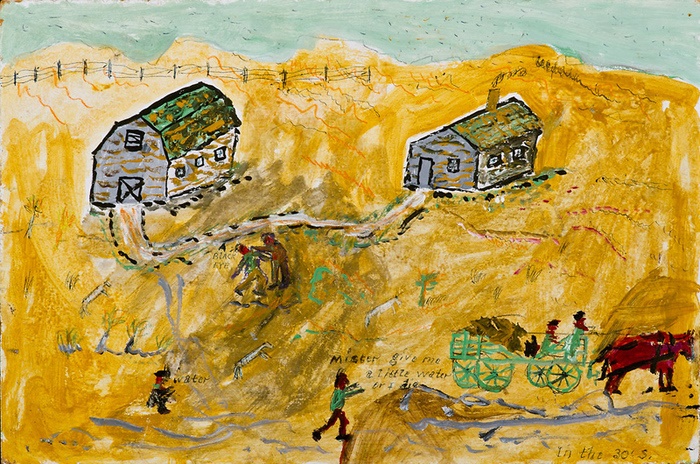 Keep on Going: Frank & Victor Cicansky opening reception
September 13, 2018
Moose Jaw Museum & Art Gallery
This exhibition features the paintings and sculptures of folk artist Frank Cicansky in conjunction with the clay and bronze work of his son, Victor Cicansky, whose work was not only a key contributor to the Regina Funk movement but is renowned internationally for contributing to contemporary sculpture and ceramics. These works together will reflect a sincere and compelling response to place and offer immigrant narratives of southern Saskatchewan, while exploring the influential connections between our province's folk art and funk art genres.
Photo: Frank Cicansky, In the Thirties, 1975, Masonite, acrylic paint, mixed media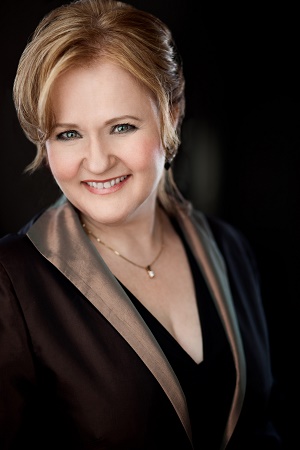 Opening Night with Tracy Dahl reception
September 22, 2018
Regina Symphony Orchestra
In 2018-19, the Regina Symphony Orchestra marks its 110th season!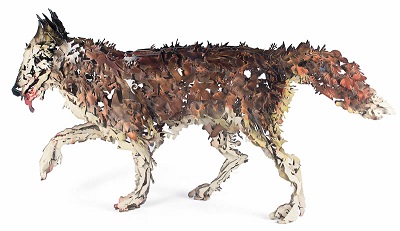 Retailles reception and artist talk with Joe Fafard
September 28, 2018
Art Gallery of Swift Current
Retailles offers an insight into Fafard's exploration of the laser-cut process and his creative renderings of its by-products. This show presents a collection of laser-cut and welded metal sculptures along with embossed and woodcut prints. Retailles not only references the act of removing the negative space from the positive to create form, but refers to the act of recycling these "out-cuts" to create new works.
Photo: Joe Fafard, L'aube du Loup 5 II, 2011, powder coated steel laser out-cuts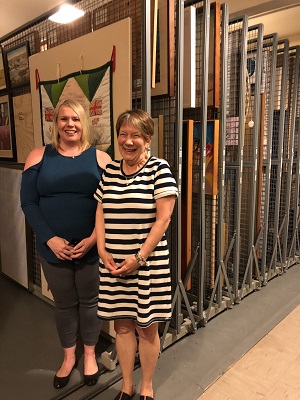 Culture Days: Venture into the Vaults Art Tours
September 29, 2018
Saskatchewan Arts Board, Regina
Awestruck by art? Captivated by craft? Venture into the vaults of our Permanent Collection of Saskatchewan artwork and join in our Culture Days celebrations.
On Saturday, September 29, 2018, our staff will give you an insider's view, telling you the stories behind the art and artists that make this collection a Saskatchewan treasure. Tours start at 10 a.m. and take place every hour on the hour, with the last one beginning at 3 p.m.
Our vaults are located at the Conexus Arts Centre, 200 Lakeshore Drive. Go to the southwest corner of the building (just past the Jacqui Shumiatcher entrance) and find the sign that says "Saskatchewan Arts Board."
Photo: Board members Rachel Heidecker and Nancy Martin visit our Permanent Collection vaults.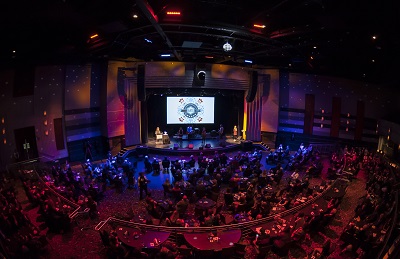 Saskatchewan Arts Awards
October 25, 2018
Casino Regina
Presented by the Saskatchewan Arts Board, the Saskatchewan Arts Awards celebrates the achievements of individuals, groups and organizations in all arts disciplines. Recipients are given awards in six categories. The event brings artists, arts organizations, patrons of the arts and members of the business community together to celebrate the enormous contributions the arts community makes to our province's quality of life and economy.