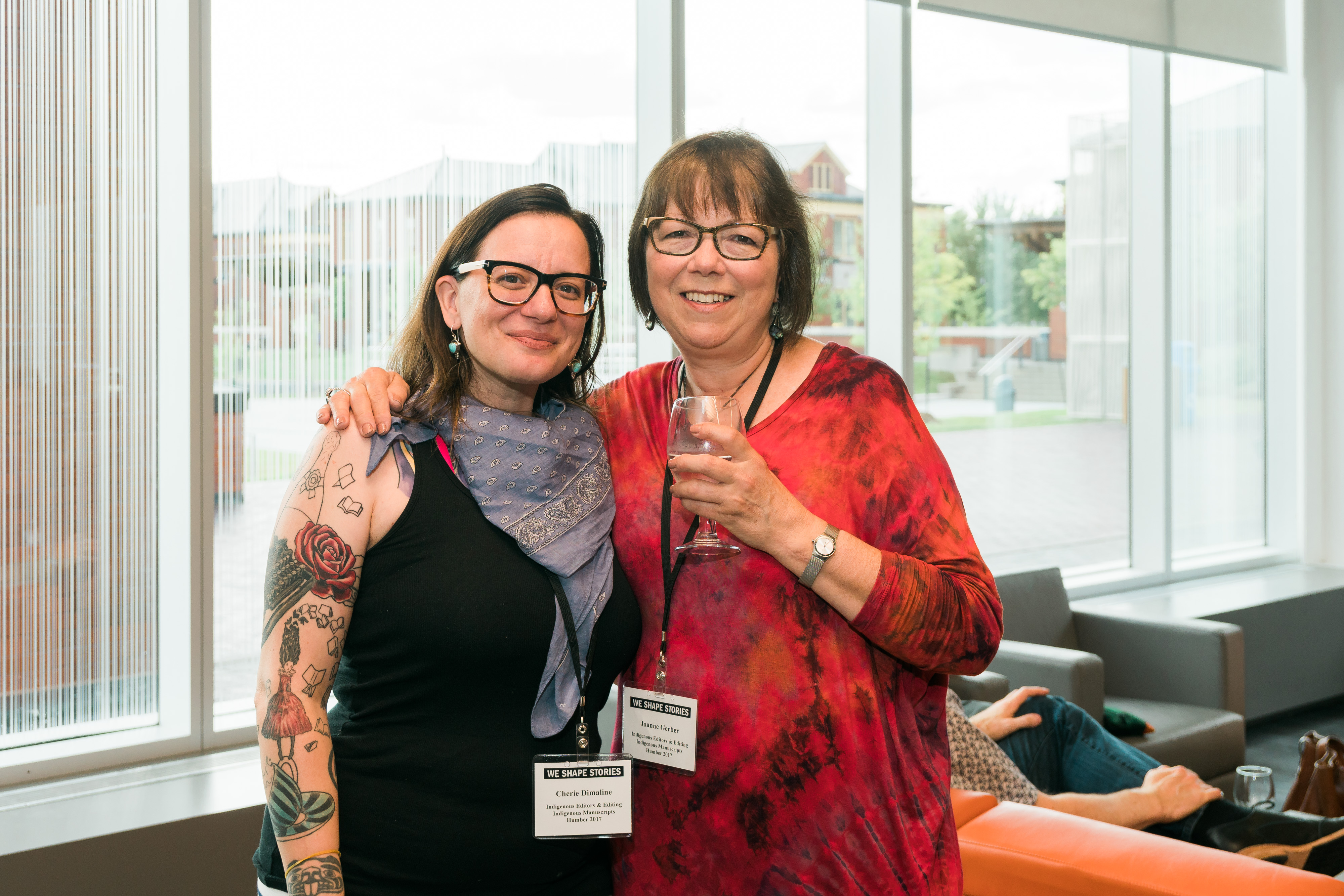 Historically, much of the literature in Canada about Indigenous people has been written by non-Indigenous writers. Cultural assumptions made from a Western lens have often been problematic. In recent years, Indigenous stories, poems and academic texts written by Indigenous authors have proliferated. However, there is a shortage of Indigenous editors in Canada and few non-Indigenous editors with the knowledge and cultural sensitivity to address the complex issues that arise in publishing Indigenous manuscripts. The Indigenous Editors Circle (IEC) and Editing Indigenous Manuscripts (EIM) programs aim to address these issues.
"Canadian publishers want to get it right. They know they need Indigenous editors," Greg Younging, faculty coordinator of the programs, remarked in a Quill and Quire article in April 2017.
Both programs were conceived of by the Saskatchewan Arts Board after a ten-year process of informal consultation with Indigenous writers and advocacy with Canadian publishers and funders. In 2014 and 2015, the Arts Board partnered with the Saskatchewan Writers Guild and the Canada Council for the Arts to host a program for Indigenous editors and publishers from across Canada. In 2015, we partnered with the Access Copyright Foundation, who sponsored a two-day pilot program for mainstream editors and publishers. Both were great successes. Since the interest was national, the Arts Board decided it was beyond our mandate to continue the primary funding and program delivery role. We created a new partnership with Humber College's School of Creative Publishing and, with support from the Canada Book Fund and the Canada Council for the Arts, moved the programs to Humber's Toronto Lakeshore Campus.
"Toronto is the centre of publishing activity in Canada, so we felt this would potentially draw wider participation and attention," says Joanne Gerber, program consultant at the Saskatchewan Arts Board. For the August 2017 rollout, organizers hoped to attract eight Indigenous editors for the Editors Circle and 16 non-Indigenous publishers for the Indigenous Manuscript program. Enrollment had to be cut off at 34 publishing participants and a jury was struck to select the eight Indigenous participants. The latter were fully funded by the Canada Council, and a ninth Indigenous editor was admitted, sponsored by the Ontario Ministry of Education.
Editors from many First Nations attended, including Cree, Metis, Ojibway, Anishnaabeg, Interior Salish, Kwaquiutl, Inuit and Miq'Maq. The EIM was a who's who of the Canadian publishing industry, including Indigenous presses like Theytus and Kegedonce Books, established trade presses such as House of Anansi, Brick Books and Penguin-Random House, children's presses like Scholastic Books and academic presses. Faculty Coordinator Greg Younging team-taught with Indigenous editors/authors/educators Warren Cariou, Greg Schofield and Cherie Dimaline.
The programs created a safe learning environment for publishing professionals to explore the problematic histories of past editing practices, cultural protocols around the publication of Indigenous material and Indigenous worldview and values. Keynote subjects, panels and workshop themes included: understanding Indigenous knowledge; recognizing cultural appropriation; preserving the Indigenous voice and worldview; the importance of trust and relationship in editing Indigenous trauma narratives; best practices for presenting oral traditions in textual forms; avoiding cultural stereotypes and misrepresentations; respecting Indigenous notions of intellectual property rights and permissions around communally owned stories and best practices in acquiring, publishing and marketing the work of Indigenous authors.
The response was overwhelmingly positive. Many publishers announced their intention to come back next year with more editorial staff. Participants observed that the experience would profoundly change their editorial and publishing practices.
"I'm feeling full, challenged and reinvigorated as an editor," Amanda Lewis wrote on the Page Two Strategies blog in August 2017. "This week, I listened, shared and learned. I felt a softening toward myself and the editorial process in general, and a renewed sense of responsibility we have as editors and publishers. I've definitely made mistakes in protocol when working with Indigenous writers over the years, even though I was trying my best at the time. This course was a reminder that we will make mistakes along the way, but the work is in learning from those mistakes."
The programs will be offered again in summer 2018. Faculty will be increased and a full-time Elder hired in anticipation of a larger group of participants.
"I am both thankful to and proud of the Arts Board for catching the vision and leading the way as a champion of our Indigenous writers, editors and publishers. A lasting legacy is that our Indigenous authors are being guided by editors familiar with their worldview, voice and culture to ensure that the book delivered to the hand of readers is the story they envisioned in their heads, and with permission from their Elders, the wisdom and history passed down to them," says Gerber.
Photo: Arts Board consultant Joanne Gerber with IEC/EIM faculty member Cherie Dimaline. Dimaline will be the program faculty co-ordinator for 2018.
Photo courtesy of Humber College